Markus Reuter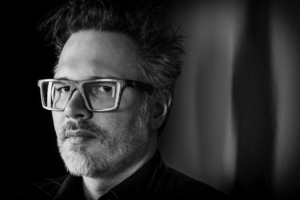 5.1 streaming of:
the first track "Dreams Dropping Back Into The Sea" from Taster
the first track 'I' from Todmorden 513
all 5 tracks on the free album: Winter Solstice
teaser of Older Than God
teaser of The Longest in Terms of Being
teaser of Digitalis 
 teaser of Live in Morelia 2016
teaser of Todmorden 513 (Concerto for Orchestra)
From

Wikipedia

, the free encyclopedia:
Markus Reuter is a German multi-disciplinary musician, composer, record producer and instrument designer. His work as recording artist, solo performer and collaborator spans (and frequently fuses) electrophonic loop music, contemporary classical music, progressive and art rock, industrial music, world jazz, jazz fusion, pop songs and pure improvisation.
Over the course of a two-decade career, Reuter has been a member of multiple bands, ensembles and projects (including centrozoon, Stick Men, Tuner, The Crimson ProjeKct and Europa String Choir) as well as a solo artist. Since 2011 he has begun to establish himself as a contemporary classical composer, starting with the performance and recording of his large-scale orchestral piece Todmorden 513.
A specialist in touch guitar playing, Reuter became known as a leading player of the Warr Guitar and Chapman Stick during the 1990s and 2000s before developing and marketing his own U8 and U10 Touch Guitar instruments. In collaboration with former King Crimson member Trey Gunn, he runs the Touch Guitar Circle, a teaching and support network for touch guitar players.
As well as further collaborations with artists including Tim Bowness, Lee Fletcher, Ian Boddy and Robert Rich, Reuter has produced records by numerous musicians and released several solo recordings as both performer and composer. He is also part of an artist-owned production consortium which encompasses Iapetus Media, Unsung Productions and Unsung Records.
Showing 1–12 of 15 results