Surroundmusic.one
Sales and streaming of multi-channel music in the finest quality.
Surroundmusic.one is a non-profit web shop supporting the artists.
The purpose of Surroundmusic.one is to support artists who want their music to come out the best way in surround sound and to make sales & streaming of 5.1 music more common.
Support the artists & buy digital downloads!
For artists who want their surround sound music to be hosted by this site – Click here
ReUpmix (Remix Upmix) from stereo tracks to 4.1 surroundsound.
For songs without the original instrument and/or vocal tracks for making a proper surround mix. Here ReUpmix works fine! Give it a listen and see more here.
Surroundmusic.one is a part of Printz Music studio: Production of 5.1 mixes out of all tracks/instruments made for a stereo mix/album. Printz Music is working for the growth of surround releases.
Artists Printz Music would love to make free surround mixes for:   Needs 5.1 mix
Why is the music we listen to now, inferior in quality to the CD format from 1980?
Do so few people listen to music in 5.1 surround because not a lot is released??
That is going to change now!
Wireless speakers systems for surround music has now been made. This can make surround music a lot more available!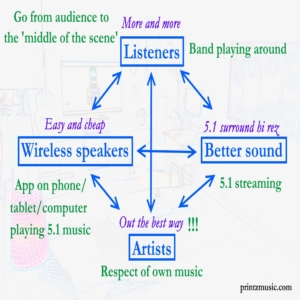 The development of annual surround sound releases according quadraphonicquad.com: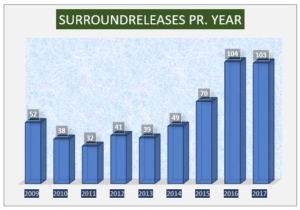 More and more bands see the sense in releasing their music in the best quality also!
The forum with most surround interested people: quadraphonicquad.com have been asked:    'How many of you can play MC flac files directly?'    43 out of 45 who have answered CAN play flac files directly! 96%!  This is a another good argument for more artists releasing their surround mixes ad digital downloads!
Have also asked over hundred of 16-19 years old students at a school the question:
If higher quality of music was available in a quality better than mp3 and CD quality will you choose that? Half of them answered yes!
So if it is easy to stream and buy high resolution music then a lot more will listen to it.
It is likely that more and more bands will insist coming out in surround sound!
Terms and conditions/General Data Protection Regulation (GDPR) – Click here