Having download problems? Go to FAQ.
Other internal links:   Genre,   Labels,   Blu-rays,   ISO-files  &  Free downloads
About surround sound releases and downloads/sales from urroundmusic.one: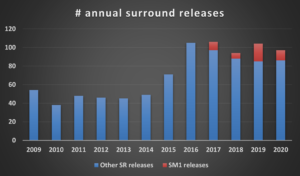 According to quadraphonicquad.com/forums 22,1% & 12,8% of all surround releases (apart from classical music and jazz) came from Sourround Music One in 2019 & 2020!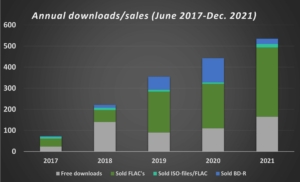 Purchased albums from surroundmusic.one shows an increasing interest from 2017 to 2021.
Surroundmusic.one on QuadraphonicQuad Forum and Facebook – Ask any question you may have about surround music.
– o –
For artists who want their surround sound music to be hosted by this site – Click here
About Terms and conditions & GDPR here.