Network 23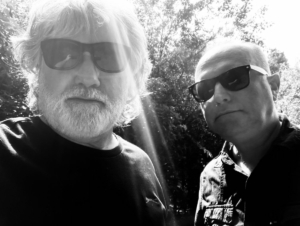 An experimental, electronic music duo, exploring the sonic possibilities of vst synths, effects and digital audio.
Simon Meader and Alan Bruzon both have long and varied musical pasts but they were brought together by their love of synthesizers, ambient music, Berlin School electronica, Ableton Live and VST soft synths. Their work is based around live improvised pieces including guitars.
Amongst their favorite influences are Tangerine Dream, Klaus Schulze, Kraftwerk, Aphex Twin, Vangelis, Tiesto, Steve Roach, Brian Eno and more.
To keep their musical style continuously evolving, Network 23's more recent works include collaboration with ethnic vocalists from around the world, including Ingvild Syntropia and a collaboration with Dutch electronic maestro Arjen Schat.
The full catalogue can be heard and downloaded at network23.bandcamp.com and videos at
https://www.youtube.com/channel/UC9EoKm2IkJUnE7dHmN3Zx3Q
https://www.facebook.com/Networktwentythree
5.1 streaming:
Buddist Dude from Return to Berlin – Part 6
Showing all 2 results