Description
Listen to odyssey here:
5.1 surroundsound flac streaming of emphasis:
emphasis 5.1 downmix_(Dolby Digital) –  compressed ac3
Stereo stream on Youtube & Bandcamp
Follow odyssey on Facebook
metastasia (greek) = relocation, transformation, change.
Digital download – Download what you want of mixes in 4.0, 5.1 & 7.1 surroundsound flac (44kHz 24bit), stereo flac and mp3 & iso-file for those will burn their own AVCHD-DVD with 5.1 or 4.0 surroundsound OR a 21 gb BLU-RAY iso-file containing all the mixes (Playable on most blu-ray players).
Checkout gives these download possibilities: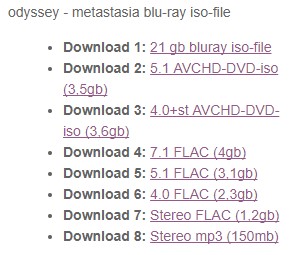 + artwork (pdf & label jpg)
All incl. bonus: Full length versions for those who want even more ambient versions of the two tracks nebulus & aithesis.
Recorded at printz music studio july 1999 (pcm 44kHz 24 bit).
Composed, arranged, produced, photo & artwork by odyssey.
© odyssey 1999-2003, 2010, 2016 (2.0/4.0/5.1/7.1 mix).
(Download link will expire after 3 month – 10 downloads allowed)